I'm a big fan of classic sit-coms and have a podcast dedicated to exploring supposedly 'problematic' episodes of old comedies with people who have never seen them before. I am a believer that there is a lot of good television comedy that exists and is easily thrown away because of changing cultural norms, older television shows can provide an interesting insight into how things have changed socially, as well as still providing some good comedy. Some of them feature language and jokes that would no longer be considered acceptable, but some of them also include fantastic examples of comic timing, farce and wordplay that are not so common in more modern iterations of the genre. Whilst most modern British sit-coms are little more than platforms for declining stand-ups to act out routines that were boring 5 years ago, there are some notable exceptions to the pattern, some of which are included in my list. It's also worth pointing out here that there are several modern comedies, such as The Detectorists, that I have not yet seen but am very excited about watching – having heard a lot of positive things. In the meantime, however, here are my top ten sit-coms:
10. Malcom in the Middle:
Generally, I'm not a fan of American comedy. Malcolm in the Middle, however, is the big exception and the only American sit-com on my list. What starts out as little more than a kids' show grows into a poignant comedy about family life, full of intelligent commentary on American culture and an indictment of the flaws in society. It's also surreal, daft and utterly ridiculous. As time goes on the show becomes more and more about Hal and Lois (the parents) and the brilliant performances put in by the actors week after week to create a genuine, authentic and beautiful interpretation of an adult relationship is both warming and hilarious. As a child I enjoyed it because it was silly but as an adult I enjoy it because it's smart.
9. Spaced:
I recently put the episodes of Spaced in order from worst to best as it is a show I am very familiar with, coming back to it every couple of years. At its best it is brilliant, surreal and deeply funny, although many of the myriad references do now fall a little flat. The cast have all moved onto bigger projects with Frost and Pegg's 'Cornetto Trilogy' (and Paul) all having a similar oeuvre to the TV series. Each episode has a decent amount of laughs and it is definitely a show that has inspired an entire new generation of 'geeks' to build robots, read comics and watch TV.
8. Blackadder Goes Fourth:
The first season of Blackadder is awful, everyone knows it – even the people who made it know it, which is why everyone's favourite apartheid fan, Ben Elton, was brought in to help with season 2 onwards. 2 and 3 are fine, there are some funny moments but I find myself skipping more and more episodes on each revisit, to the extent that I think I'm down to two episodes from 'II' and one from 'the Third'. Blackadder Goes Fourth is, however, a masterpiece. It manages to be deal with the dark and serious issues of war in a respectful and powerful manner whilst also being hilarious. The end of the final episode is amongst the finest moments in British television history.
7: Fawlty Towers:
Americans used to joke about how few episodes British comedies run for. Fawlty Tower has 12 episodes, Friends has 4,000. I do not view this as a weakness, it is surely better to make 12 good episodes than keep going and gradually get weaker and weaker every year (Dad's Army). Fawlty Towers has been back in the news recently because of THAT conversation between Basil and The Major and, of course, that kind of language is not okay. Rather than being a racist or sexist show, Fawlty Towers is a show about a racist and a sexist and it mostly handles that idea very well – though it does slip up from time to time. In general, however, each episode is a well played out farce, resulting in the most bizarre scenarios – supposedly inspired by a visit to a real-life Torquay hotel.
6: Black Books:
Graham Linehan's fall from grace has caused many fans to turn their backs on some of the fine work he has been involved in such as Father Ted, Brass Eye and Black Books. The extent to which an artist can be separated from their art is debatable but even if we do need to write Linehan off, I remain a big fan of Dylan Moran, Tamsin Greig and Bill Bailey who have a fun on-screen chemistry and deliver many moments of hilarity in a variety of comic styles. Each episode is unique, well written and full of fun; Bernard and Manny writing a children's' book is a personal favourite. Some fans bemoan the fact there are only 3 series but I for one am glad this show ended before they started to run low on ideas and resort to the kind of filler material a lot of sitcoms become guilty of.
5. The Good Life:
There is a warmth about this show and a feel-good factor that makes it such an enjoyable watch. It has inspired by own desire to grow food, forage and make stuff. The dialogue is crisp and dry like nettle wine with humour as sharp and straight as a hunting knife. Full of wry chuckles and big laughs it is fun to watch. The relationship between the neighbours is honest and charming – with a touch of class commentary thrown in. Tom and Barbara's marriage is far from perfect, Tom can be forceful and demanding but Barbara's feisty nature often puts this at right. They both love each other and the show is full of sweet things that they do for each other in their own way, as well as a lot of larking about, which I really admire.
4. Porridge:
There is a lot to recommend about Porridge as a comedy. The unusual setting creates great tension as characters attempt to navigate life in prison, as well as some amusing moments as they attempt to get one over on the guards or their less scrupulous inmates. Full of jokes, great single episode plots and a heart-warming wider arc concerning the relationship between Fletcher and Godber, it is a true classic. Some elements of the show, however, have not aged well, there is some racist language and plenty of sexism. On the rare occasions a woman is onscreen (it is a men's prison) she is the subject of sexual comments and behaviour. It can be argued that the show is an accurate portrayal of prison life, as many ex-convicts have claimed, and that these issues are part of that. For the most part, though, this is a heart-warming and very funny show.
3. The Thick of It: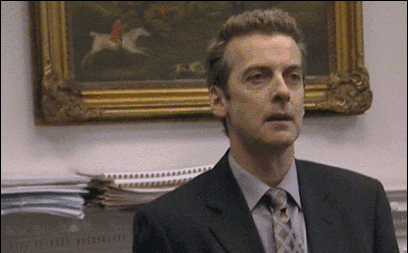 Armando Iannucci's brilliant satire on the inner workings of the British government is sheer genius. Peter Capaldi is inspired as spin-doctor Malcolm Tucker and his angry rants and insults are a delight. The show has become something of a barometer for the absurdity of British politics with the idea that a real-life political mess is "like something from The Thick of It" becoming a very telling cliché. It also introduced the word 'omnishambles' the lexicon. Some of the absurd ideas even became actual government policy. The show was incredibly popular, won multiple awards but, according to Iannucci, finished because real life politics became too absurd and they couldn't compete.
2: Only Fools and Horses:
Only Fools and Horses had an incredible run as a British TV favourite from the 1980s right up until the 21st Century. There are some problematic moments in early episodes but the show certainly rose above it and moved with the times. Written by John Sullivan and inspired (at first) by his father's stories about the depression, it contains some of the finest moments of British comedy as well as some of the most poignant moments in sitcom history and razor-sharp social commentary. There isn't much I can say about Only Fools that hasn't already been said but if you haven't watched it (or haven't in a long time) I urge you to go at it with an open mind, specifically looking at some of the finer details of what made this show great – from a varied cast of characters to the deeply serious storylines it featured.
1. Rev:
Written by Tom Hollander (who also plays the lead, Adam) and James Wood, Rev is a true modern classic. It follows the life of a church of England vicar and his wife, who is played by the exceptionally talented Olivia Coleman, in inner city, multi-cultural London. If you are thinking that this show is anything like The Vicar of Dibley then you have got another thing coming. It is dark, gritty and incredibly accurate in its portrayal of the modern church. The writing is fabulous and as the characters grow on you, you find yourself empathising with them in ways many other sit-coms never manage. There are some fantastic cameos by top actors and some excellent one-episode only characters, as well as a whole array of lovable (and not so lovable) regulars. The writers have repeatedly said that this isn't just a show about church, it is a show about England and how it really is now, especially in the city of London.